During this challenge I have realized a few things.
1. I really enjoy baking.
2. I really, really enjoy taking pictures of the things I make.
3. I really, really really enjoy the world of food blogging.
I have met some unbelievable people and been given some wonderful opportunities. These people are doers. They are creative, resourceful and supportive. I feel like we all have something to offer and we all share in each other's accomplishments. All while sharing recipes and stories.
Another great resource for sharing is pinterest. You can see something that looks good, click pin, and have a new recipe to share! So simple and so valuable...especially for those of us who often misplace notebooks full of recipes. [click
here to follow The Cookie A Day Challenge
on pinterest]
Everyone has their "happy place". Mine has always been in the kitchen. I am my best me when I can be creative and make something for my family and friends. To think of it, that's the reason we decided to remodel our kitchen in the first place. No matter how many people we had over, and how small our kitchen was, we would ALWAYS end up there.
While on pinterest, I saw the most fantastical (I know that's not a word) image of a cookie dough brownie. So I went on a hunt to find a recipe. I came across a few, but ended up adapting one from Recipe Girl. I used a different brownie base and reduced the cookie dough. To see Recipe Girl's original recipe click
here
.
Chocolate Chip Cookie Dough Brownies
Yields 12 Brownies
Printable Recipe
Zip List
Brownie Base
1/2 cup melted butter
1/2 cup of DARK brown sugar
1/2 cup sugar
2 eggs
1 tsp pure vanilla extract
1/2 cup flour
1/3 cup of dark cocoa powder (like Hershey's 100% Cacao Special Dark)
1/4 tsp baking powder
1/4 tsp salt
Chocolate Chip Cookie Dough
1 stick of butter (softened)
1/2 cup sugar
1/2 cup brown sugar
1 TBS milk
1 tsp vanilla
1 cup flour
1/2 cup mini chocolate chips
Preheat oven to 350 degrees
Grease a 11x7 pan
Mix together melted butter and sugars
Add eggs and vanilla
Slowly mix in flour, cocoa powder, baking powder and salt.
Pour in pan and bake 20-30 minutes until knife inserted in the middle comes out clean.
While brownies are cooling mix the cookie dough.
Cream together butter and sugars
Add milk and vanilla
Slowly mix in flower (a little at a time)
Stir in mini chocolate chips
Cover the brownies with cookie dough and refrigerate.
Melt 1/4 cup of chocolate chips and drizzle over the top before serving.
Fall Fun and Howling Halloween Link Party, October 5th!
Come join me and my fellow co-hosts as we link up all that is fun and fabulous about fall!
Should be a howling good time!!!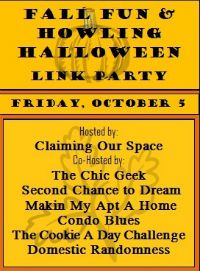 Second Chance to Dream
Makin My Apt Home
Condo Blues
Domestic Randomness